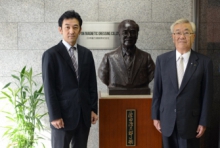 Continuing Its Pioneering Efforts in Next-Generation Technology
Since its establishment, NMD has developed business activities centering on the recycling of iron and steel byproducts. In today's environmentally conscious, recycling-oriented society, recycling has become a fact of life in every industrial field. As a result, we have seen a dramatic increase in the number of inquiries from fields other than iron and steel. We are confident that the recycling technology as well as the machinery, plant and operations know-how that NMD has cultivated over many years is more than enough to meet this increase in demand. We look forward to continuing to serve the needs of our many customers in the future.

Mitsuhisa Harada, Chairman
Makoto Harada, President
Nippon Magnetic Dressing Co., Ltd.
Environmental Policies
In our quest to become a comprehensive recycling enterprise, we are utilizing our technology to contribute to a resource recycling society.
Pursuant to realizing integrated recycling operations that utilize technology to realize an environmentally conscious, recycling-based society, NMD is striving to continuously improve the effectiveness of its environmental management systems while at the same time establishing the mobilization objectives noted below.
Mobilization Objectives
We are determined to improve our recycling technology. By mitigating environmental impacts through the effective use of underutilized resources and implementing energy conservation measures, NMD is helping to realize a true recycling-based society.
NMD has its sights set on an environmental mobilization effort that is based on the individual environmental conservation initiatives of its employees and the mutual trust it has established with the local community and its customers.
NMD is committed to preventing pollution by acting in compliance with environmental legislation and other requirements that the company has agreed to.